When looking at the various hypothyroidism symptoms, the specific hypothyroidism symptoms in women are often difficult to discern because many are associated more closely with female hormone imbalances and no one makes the connection to hypothyroidism. But there's actually a very strong connection.
Because of this, women are often misdiagnosed as having some other disorder when in reality they are experiencing hypothyroidism. Before we take a look at the specific hypothyroidism symptoms in women, let's take a look at some of the causes of hypothyroidism that are often exclusive to women.
Common Causes of Hypothyroidism Symptoms in Women
Childbirth
Hypothyroidism can oftentimes be a result of childbirth. The placenta is largely responsible for producing the massive amounts of progesterone that helps protect the growing fetus throughout pregnancy. But after giving birth, your progesterone levels drop fairly drastically. And this drop can cause you to become hypothyroid.
For some women, their hormones re-regulate and the hypothyroidism is only temporary. But many women find that their hormones never quite return to normal and become stuck in a state of hypothyroidism.
Stress and Hypothyroidism Symptoms in Women
Like many medical conditions, stress is known to be a factor that contributes to thyroid dysfunction in a number of ways. Stress affects thyroid functioning through the sympathetic nervous system where it blocks the liver from converting inactive T4 thyroid hormone into its active T3 form.
A study done in the early 1990s on people who experienced chronic stress determined that there was a very high rate of hypothyroidism symptoms in women who participated in the study.
Of particular concern, is chronic adrenal stress, which is becoming more and more common today. Some symptoms of adrenal stress include:
Cravings for caffeine
Cravings for sugar
Dizziness when moving from sitting position or from lying to standing position
Feeling fatigued
Gastric Ulcers
Headaches
Insomnia
Mood swings
Use of Birth Control Pills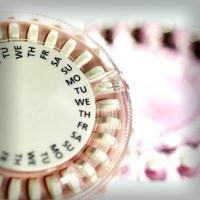 Women who have a history of using birth control pills have a significant incidence of hypothyroidism due to their increased levels of synthetic estrogen and progestins. Therefore, if you have ever used birth control pills or are currently using them, and you have any sort of chronic symptoms, you may actually be suffering from hypothyroidism and not even know it.
Now that we've taken a look at some of the causes for hypothyroidism symptoms in women, let's take a closer look at what some of those symptoms are and what systems they affect in women.
Common Hypothyroidism Symptoms in Women
Irregular Menstrual Cycles
One of the most significant of hypothyroidism symptoms in women is an irregular menstrual cycle.  Any history of menstrual periods which are unusually long, heavy, or more frequent than your regular cycle could be an indication that you have hypothyroidism.
Or another common sign related to the menstrual cycle is amenorrhea, or lack of a menstrual cycle.
Severe Menstrual Cramps
Every woman has painful menstrual cramps from time to time, however, if you find that your periods are becoming more painful each month, take into consideration that your painful cramps may really be one of the more common hypothyroidism symptoms in women.
Excessive Bleeding or Clotting
These are especially significant hypothyroidism symptoms in women if the bleeding or clotting is post-partum. But general clotting issues are commonly cause by increased levels of estrogen which is the common secondary effect of hypothyroidism.
Menopause
Many women going through menopause naturally assume that many of the symptoms that they happen to be experiencing are unavoidable and due to menopause itself. However, it is important to keep in mind that menopausal symptoms are almost always a result of estrogen dominance which is a secondary result of hypothyroidism.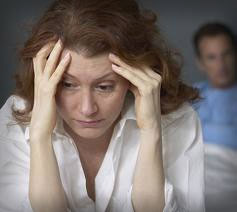 If the hormonal imbalance is not addressed, it can actually lead you further down the road of hypothyroidism.  Although on occasion, the condition is only temporary during the natural shift in hormones. But most women, if not already hypothyroid leading up to menopause, will go on to develop a lifelong clinical thyroid problem.
Keep in mind that just as you may not make the connection between menopause and hypothyroidism symptoms in women because you assume that your symptoms are menopausal are normal; your health practitioner may also miss the diagnosis as well.
Below is a list of hypothyroidism symptoms in women that can easily be misdiagnosed:
A history of miscarriage
Difficulty conceiving a child
Fibrocystic or "lumpy" breasts
Fibroids
Low sex drive
Many of these hormonal issues can be corrected naturally through the right hypothyroidism treatment protocol with a strong emphasis on a hypothyroidism diet.
The following list of hypothyroidism symptoms in women are those which have little or nothing to do with the reproductive system. Remember that hypothyroidism is really another way of saying that your cells aren't efficiently producing energy. As such, many of the hypothyroidism symptoms in women are indicated by fatigue.
Allergies that suddenly appear or get worse
Brittle hair, itchy scalp, hair loss
Bruising/clotting problems
Constipation
Depression and depressed mood
Difficulty tolerating cold and lower body temperature
Dry skin, brittle nails
Elevated levels of LDL (the "bad" cholesterol) and heightened risk of heart disease
Hoarseness
Joint and muscle pain, headaches
Memory loss, fuzzy thinking, difficulty following conversation or train of thought
Persistent cold sores, boils, or breakouts
Puffiness in face and extremities
Severe fatigue, loss of energy
Sleeping more than average
Slowness or slurring of speech
Tingling sensation in wrists and hands that mimics carpal tunnel syndrome
Weight gain, difficulty losing weight
For more information on the various hypothyroidism symptoms, be sure to check out this comprehensive Hypothyroidism Symptom Checklist.
Unfortunately a single thyroid function test does not always give accurate results, which means it is possible that even if you have a negative result, it doesn't mean that you don't have a problem with your thyroid. The best way to determine if you have a healthy thyroid is by becoming aware of the many hypothyroidism symptoms in women and keeping track if you find yourself experiencing them.