If your thyroid gland stops making enough thyroid hormone, or if it begins to make too much, chances are fairly certain that you will eventually develop symptoms of thyroid problems.
Unfortunately, in its very early stages, hypothyroidism is usually without noticeable symptoms. Occasionally, a patient may have very mild symptoms such as a feeling of general tiredness or just a lack of energy. These are often wrongfully attributed to other conditions. However, as the thyroid stimulating hormone (TSH) levels increase so do the symptoms of thyroid problems.
Because the disorder can progress to some serious and even life threatening conditions, it's important that you have a good idea of what to look for when dealing with symptoms of thyroid problems.
There are several factors that can contribute to hypothyroidism. Some of these factors include estrogen dominance and liver dysfunction; however, it can just as easily be caused by increased stress.
Unfortunately, diagnosing hypothyroidism is not necessarily simple because not all tests for the disorder are accurate. In fact, many people are prone to receive a false negative result, when they would actually benefit greatly from the right hypothyroidism treatment. Because testing is not always reliable, it's best to be personally aware of and take notice of any symptoms of thyroid problems to determine if you need further evaluation.
Symptoms of Thyroid Problems and Your Weight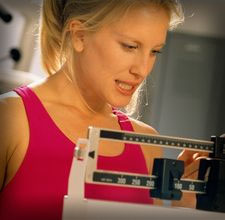 When we hear the word hypothyroidism, we usually associate it with the body's rate of metabolism.  Most people assume that if they aren't having a problem with weight loss or weight gain, then their thyroid gland is working properly.  But, weight loss or gain, while certainly a factor in dealing with the thyroid gland, is just one of dozens of symptoms of thyroid problems.
These can range from problems with the digestive system to the autoimmune system, and even the body's heart and circulatory system. Let's take a look at these crucial body systems to see the effects of hypothyroidism and what it can lead to if it goes untreated.
Hypothyroid Symptoms of the Digestive System
Digestive problems are so common that most people just assume they are going to have to deal with them at one time or another during their life.  While many of these symptoms can easily go unnoticed, or be attributed to another condition, many digestive disorders are really just symptoms of thyroid problems.
Keep in mind how important the digestive system is when it comes to turning the foods we consume into energy.  Without a healthy digestive system, we run the risk of not only doing damage to our body, but also we leave ourselves open developing deficiencies that further damage your thyroid and cause even more symptoms.
That's why it's so important to be aware of any problems we experience and determine if they are really symptoms of thyroid problems.
You will notice from this list of symptoms that the problems can be found all along the digestive track from the mouth and tongue, all the way through the body and bowels.
Watch for these symptoms of thyroid problems:
Loss of appetite
Food allergies
Food sensitivities
Swollen tongue
Ridges on the tongue
Dry mouth
Cravings for salt
Cravings for sweets
Bad breath
Difficulty swallowing
Excessive gas
Irritable Bowel Syndrome (IBS)
Liver and or gallbladder problems
Diabetes
Symptoms of Thyroid Problems Associated with Your Immune system
The immune system is the body's best defense against disease and infection. Once the immune system is compromised by ongoing symptoms of thyroid problems, the body is open to any number of immune system diseases.
Keep in mind that the immune system is basically the army inside of our bodies that is well organized and trained to find and destroy any invaders.  It is especially crucial that the immune system be in good working condition in order for it to determine the difference between cells that are invading the body with an illness and the body's own natural health cells.
If, for any reason, your immune system fails to function properly, the result can be that the body's cells react against itself. This is what causes autoimmune disease. For this reason, it is important to be aware of any symptoms of thyroid problems which can affect your immune system.
Let's take a look at some of the immune system symptoms of thyroid problems to be aware of:
Urinary tract infections (UTI) especially if they are recurring
Upper respiratory infections, especially if they are recurring
Fungal infections
Rheumatoid arthritis
Asthma
Lupus
Candida Infections
Multiple Sclerosis
Any autoimmune disease
Cancer
Symptoms of Thyroid Problems Associated with Your Heart
One of the greatest concerns of hypothyroidism is its effect on the heart and in turn the circulatory system.  The disorder is sometimes associated with an increased risk of heart disease because of high levels of the bad cholesterol (low-density lipoprotein) LDL which often occurs in people with hypothyroidism. Statistics have recently indicated that even a mild form of hypothyroidism can cause an increase in total cholesterol levels.
Of major concern is that this can impair the circulation of blood through your heart.  The disorder has also been associated with an enlarged heart and in extreme cases, heart failure, which is why it is so important to know the symptoms of thyroid problems.
Some of these heart related symptoms include:
High cholesterol
High blood pressure
Low blood pressure
Slow or Weak pulse (less than 60 beats per minute (bpm)
Fast or racing pulse (more than 90 beats per minute (bpm)
Issues with clotting
Bleeding irregularities
Heart Disease
Enlarged Heart
Another important factor to keep in mind is that having relatives with any of the above symptoms of thyroid problems increases your risk for the condition as well. There are many factors involved such as the health of your mother at birth, your diet, stress levels, and others. And many of these factors are commonly shared among family.
But that doesn't necessarily mean that all family members will develop any or all of the symptoms of thyroid problems. It just makes you more susceptible. So, even if you don't suffer from many of the different signs of thyroid problems, it's all the more reason to start eating the best hypothyroidism diet to help ensure that you keep it that way.