There's a lot of confusion and misunderstanding floating around regarding the cause of hypothyroidism. Most people are led to believe that the underlying cause of hypothyroidism is some sort of defect to the thyroid gland itself. But the truth is that there are multiple hypothyroidism causes that all need to be addressed as part of any successful hypothyroidism treatment protocol.
Is Your Thyroid Gland Really the Problem?
It's true that most doctors are trained to believe that 95% of hypothyroidism is a matter of a sluggish thyroid gland that is incapable of producing enough thyroid hormone to support your body's needs. And you can't necessarily blame them because on a very superficial level, it makes sense.
But if that were the case, then 95% of hypothyroidism patients who were put on supplemental Thyroxine (T4 thyroid hormone) would respond favorably and their hypothyroidism symptoms would simply disappear. And doctors prescribe T4 because that's the primary hormone that your thyroid gland secretes.
But the results of prescribing T4 have been far less than impressive. In fact, they have been outright horrid.
The majority of patients who are put on T4 medication get no relief. Many even get worse. And most doctors fail to come to terms with the fact that this form of treatment is more of a problem than a solution. So, they continue to ignore the various other hypothyroidism causes and reassure their patients that the medication is working but that there are some other "unrelated" problems that they now need to investigate.
The Truth About Hypothyroidism Causes
The truth is that there's an entire long process that occurs between the time that your thyroid gland produces its hormones and the time that those hormones get delivered to your cells for use. And if any part of this process is broken then the end result is… hypothyroidism.
So, it becomes much easier to see that there are a number of hypothyroidism causes that you have to account for if you really want to correct the problem.
But it gets even deeper than that.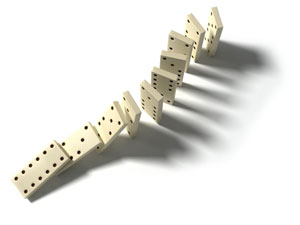 Unfortunately, when any one single part of this process is broken, all the other parts suffer as well, much like a domino effect. So it's not as easy as fixing the one little broken link in the chain. Once this process is thrown off, you have to work to restore functionality to the entire process to get it working properly again.
And that's why it becomes so important to address all of the hypothyroidism causes at the same time.
And while TSH levels are high in the majority of hypothyroidism cases (but not all) this is not necessarily an indication of a problem with your thyroid gland. If any part of the process becomes broken then your thyroid gland is going to naturally down regulate and stop producing so many hormones. And it's important to use the right thyroid function test before basing a diagnosis off of TSH alone.
But it's easy to point the finger at your thyroid as the problem and that's a big mistake that most people and doctors make.
Below I've listed the 3 main parts of this process to give you a much better idea of what can go wrong and the various hypothyroidism causes involved with each individual part.
Hypothyroidism Causes Related to Thyroid Hormone Secretion
When it comes to your thyroid gland, there are a few factors that affect its ability to secrete the thyroid hormones that it produces (aside from other broken parts of this process).
Iodine Deficiency
One such issue is an iodine deficiency. But in industrialized countries now days, this is actually one of the very rare hypothyroidism causes. And supplementing with iodine should be approached with extreme caution because you can easily experience iodine toxicity based on many of the popular recommended dosages out there. And this can actually have a number of negative health effects and make you even more hypothyroid in the end.
So it's important to always get appropriate testing to determine your true iodine levels instead of using a shotgun approach of iodine supplementation.
Excessive Estrogen
One of the very common hypothyroidism causes today that affects your thyroid's ability to secrete your thyroid hormones is excessive estrogen levels. And this goes for both men and women although it's more of a problem with women since they naturally have higher estrogen levels.
When estrogen is in excess within the body, it deactivates the proteolytic enzymes that are responsible for signaling your thyroid to release its hormones. So the thyroid hormones tend to build up within the gland and many times leads to goiters and Hashimoto's Thyroiditis.
Progesterone Deficiency
The hormone that is responsible for opposing and balancing estrogen is progesterone. And one of the many beneficial roles of progesterone is to activate the same proteolytic enzymes that estrogen deactivates.
And a deficiency in progesterone oftentimes goes hand in hand with excessive estrogen.
Hypothyroidism Causes Related to Thyroid Hormone Conversion
Your thyroid gland produces primarily the inactive T4 hormone that must be first converted by your liver into the active T3 hormone in order to be used by your cells. And because this process is responsible for producing about 2/3 of your active thyroid hormone then it can be a major player among the various hypothyroidism causes.
Protein Deficiency
Hopefully you are well aware of the fact that protein plays an important role in your diet. And when you don't get enough protein in your diet then your body begins to break down your own muscle tissue in order to get the protein that it needs. But this comes with a price.
The process involved in breaking down your muscle tissue requires the use of your body's stress hormones. And when these stress hormones rise, they also block the conversion of T4 into T3 making this one of the hypothyroidism causes.
Low Carb Diets
There's a lot of controversy out there regarding the healthiest diet. Some claim that low-fat is the only healthy diet. And others argue that carbs are the problem. But in reality, both are wrong.
But low carb diets can really cause some problems with your thyroid. And this is because your liver requires carbs in your diet in order to convert T4 to T3. So it's safe to say that carbs are not necessarily the problem. It has more to do with eating the wrong carbs vs. the right carbs.
And this is where a good science based hypothyroidism diet comes into play. But you have to be careful because not every hypothyroidism diet is created equal. And some are flat out bad.
Lack of Salt
Let's move back to the topic of stress for a minute.
One problem that goes hand in hand with hypothyroidism is the inability to retain sodium within your cells. When you become hypothyroid, your cells easily take up water and sodium is readily eliminated.
But sodium plays a number of very important roles in your body, one of which is to help keep stress hormones levels low. So, your stress hormones are naturally going to be high with hypothyroidism and if you're not getting enough salt in your diet to then you won't be able to keep those stress hormones under control.
And as I already mentioned above, stress hormones are another one of the hypothyroidism causes.
Over-Exercising
Keeping along the same topic of stress, many people over-exercise which only places more stress on your body. In fact, it has been shown that over-exercising with hypothyroidism can actually stop your body's production of the active thyroid hormone, T3, immediately.
So if you think more exercise or working out harder is going to do the trick then think again.
Hypothyroidism Causes Related to Thyroid Hormone Utilization
There are a few hypothyroidism causes that affect your body's ability to properly utilize thyroid hormone. But few have the far reaching effects of these.
Polyunsaturated Fats
Poly Unsaturated Fats are a major contributing factor with hypothyroidism. They can easily be put into the category that affects thyroid hormone secretion because they do play an active role in suppressing the thyroid gland from secreting its hormones. But these fats also have more far reaching effects.
Polyunsaturated fats also work by blocking the transportation of your thyroid hormone in your bloodstream. So, this means that even less of the needed hormone is actually making it to your cells.
And to make matters worse, once your cells do get the little bit of thyroid hormone, these fats make your thyroid hormone less effective within your cells. So it requires even more thyroid hormone to keep your metabolism and cells healthy.
And with the prevalence of polyunsaturated fats in everyone's diet today, it's very easy to see that this is another one of the major hypothyroidism causes of today.
Miscellaneous Hypothyroidism Causes
Of course, there are so many other hypothyroidism causes that it's impossible to list them all. But there are a couple of others that I think are worth mentioning because they do shed some light as to why hypothyroidism is so common.
Natural Aging
As you age, there's a natural shift that occurs in your hormone levels, thyroid hormone included. And as your body naturally decreases its hormone secretion, then it becomes more and more important to get these necessary hormones from other sources, such as this.
Diet
Our diets have changed drastically over the past century and unfortunately, it's been entirely for the worse. And this has become another one of the bigger hypothyroidism causes of today.
We use to utilize the entire animal that we ate including the various organs, bone, etc. And many of these parts that we now discard without thinking use to be very rich in thyroid hormones. So we use to get a good amount of thyroid hormone directly from our diet. And that meant that our thyroid gland didn't have to produce quite so much on it's own.
Hopefully this gives you some insight into how complex this issue really is and that it's not as simple as saying that your thyroid itself is the problem. Instead, you have to consider the entire process and all of the hypothyroidism causes that can be involved along the way if you ever want to truly be successful at healing hypothyroidism.